NASLON is the trade name of a stainless steel fiber which Nippon Seisen manufactures with our original technology.
Stainless steel fiber, as its name would suggest, uses stainless steel as its base, and is a type of metallic fiber. Accordingly, it has completely different properties from conventional organic fibers. NASLON's greatest characteristic is that it possesses the same level of workability as fiber while having metallic properties.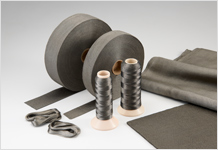 Manufacturing of various types of steels within the stainless steel category is possible, but the following 2 steel types are what we primarily manufacture.
Chemical Composition (%)
Steel type
Carbon
Silicon
Manganese
Phosphorous
Sulfur
Nickel
Chrome
Molybdenum
Iron
SUS316L
0.003
or less
1.00
or less
2.00
or less
0.045
or less
0.030
or less
12.00 -
15.00
16.00 -
18.00
2.00 -
3.00
Remainder
SUS304
0.08
or less
1.00
or less
2.00
or less
0.040
or less
0.030
or less
8.00 -
10.50
18.00 -
20.00
-
Remainder

Although NASLON's fiber state's longevity differs depending on application, it can be used up to stainless steel's annealing temperature of 1150°C. (Within inert gas)
* Note: welding point is from 1400-1450°C

Has great corrosion resistance against nitrates, alkalis, organic solvents, and more. Can also endure well against chemical types, but take note that it is penetrable by chemicals containing sulfate reducers such as hydrochloric acid and sulfuric acid as well as halogen group elements.