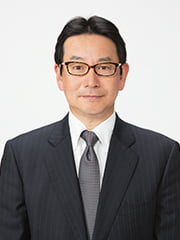 Motoshi Shinkai
President and CEO

Since our founding in 1951, Nippon Seisen has provided our customers with valuable products and services such as our unique, high value added products such as stainless steel wire based NASLON (metal fiber) and high alloy steel wires.
Thanks to you, we marked our 60th anniversary last year. In an age where the industrial structure has progressed towards environmentally friendliness, clean energy and computerization, there has been increased expectations of the stainless steel field, and there have been calls for the field to move towards
"thinner, stronger, and more precise."
As the leading manufacturer of stainless steel wires, we have made

as our new slogan to meet these expectations, and we will continue to be the leader in next generation materials and technological development.
In addition, in order to respond to the globalization of the economy, we plan on strengthening our provision system overseas as well.
With a management structure that is fully capable of rapidly responding to customer requests, we will create a stable profit base and continue to develop and expand our business.
We hope that visitors to our website will be able to gain a greater understanding of Nippon Seisen.
June, 2016