NASLON is the brand name of stainless steel fiber manufactured and sold by Nippon Seisen Co., Ltd., with its unique technology.
This stainless steel fiber NASLON® has completely different properties compared to conventional synthetic fibers. NASLON offers not only excellent performance through single applications but also the capability of blending with synthetic fibers.
Additionally, the fiber diameter of NASLON is very thin—1 to 50microns—and NASLON has flexibility that cannot be imaginable from the general concept of stainless steel.Therefore, it can be handled same as synthetic fibers.One of the best features of NASLON is its processability compared to synthetic fibers while maintaining the properties of a metal.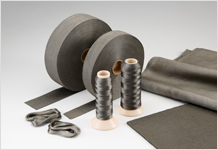 Although NASLON can be made of steel types belonging to stainless steel, the following two steel types are mainly used for manufacturing.
Chemical Composition (%)
Steel type
Carbon
Silicon
Manganese
Phosphorous
Sulfur
Nickel
Chrome
Molybdenum
Iron
SUS316L
0.030
or less
1.00
or less
2.00
or less
0.045
or less
0.030
or less
12.00 -
15.00
16.00 -
18.00
2.00 -
3.00
Remainder
SUS304
0.08
or less
1.00
or less
2.00
or less
0.040
or less
0.030
or less
8.00 -
10.50
18.00 -
20.00
-
Remainder

The addition of even a small amount of NASLON, which is a good electricity conductor, to synthetic fiber or resin has the effect of preventing or reducing static electricity.

The life of fibrous NASLON depends on its application, but it can be used up to a temperature of 1150°C or the annealing temperature of stainless. (In inert gases)
* Melting point: 1400°C to 1450°C

NASLON has good corrosion resistance against nitric acid, alkaline, organic solvents, etc.
Note that it is easily corroded by reducing acids, such as sulfuric acid, or chemicals containing a halogen group although it has resistance to chemicals.