NASLON FELT is a non-woven fabric made of NASLON with a needle punching process. In addition to 100% NASLON FELT, we offer NASLON FELT with foundation cloth which has reinforcing foundation cloth at its center, NASLON/KEVLAR BLEND FELT, and other variations.
NASLON FELT has an excellent elasticity retention property at high temperature and, therefore, is used for high-temperature press and glass transportation (tray and pusher), cushioning material, and insulation material for refractory materials. It is also used as antistatic materials, sound absorbing materials and for polishing of glass.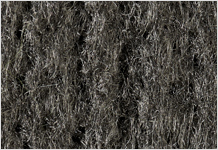 PRODUCT TYPE
MATERIAL
FIBER
DIAMETER
(μm)
THICKNESS
(mm)
NOMINAL
WEIGHT
(g/m2)
STANDARD
SIZE
(m)
8-2-400
SUS316L
8
2
400
1×1
8-5-1500
5
1500
1×3
12-2-500
12
2
500
1×3
12-5-1500
5
1500
1×3
WITH FOUNDATION CLOTH
5
1500
1×10
N/K MULTILAYER
SUS316L
+
KEVLAR
8
5
1200
1×10
※The values are reference values.