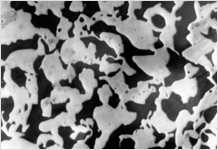 NPM filters are metal, highly porous filter media created through sintering stainless steel power without using a binder.
The thickness and complexity of its pore structure gives it tremendous effectiveness in gel cutting.
Using our original shaping method, we have realized a level of uniform filling and filtering not achievable by similar products.
Our filters are receiving a great deal of use in optical films.

| | |
| --- | --- |
| Filtration Accuracy | 5 - 50μm |
| Material Composition | SUS316L |
| Porosity | About 40% |
| Sheet Thickness | About 2 - 3mm |
| Possible Shapes | LF, DF |
| Characteristics | Gel cutting, high strength |