We offer restorative cleaning at our factory for our customer's used filters. We can do everything from resin breakdown to cleaning/inspection, so feel free to send us your filters without worrying about any resin that has built up. Conserving resources through restorative cleaning, we are working to prevent global warming.
・ If it is one of our products, we can determine the restorability by comparing it with a new product's test data.
・ After cleaning, we can rebuild the product at our location and send it back so you will not have to take the time to rebuild it, which leads to an increase in productivity.
* If corrosive elements are present, it is possible that toxic substances can result in which case the product cannot be cleaned.
・ We can also clean other companies' products.
Before
After

For the cleaning method, we will choose from the following procedures and implement the optimal process suitable for the resin present.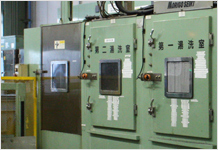 ● Inspection upon receipt (exterior inspection, etc.)
● Oxidizing roasting
● Alkaline cleaning
● Ultrasonic cleaning
● Acid cleaning
● Resin primary degradation cleaning
● Final inspection (bubble point test, airflow resistance test, etc.)